Description
What is Sewage Oil trapper?
The amount of fat and oil in sanitary sewage is usually lower than the amount needed to use fat and oil removal equipment. But most industrial wastewater such as refinery wastewater, petrochemicals, food industries, dairy industries, slaughterhouses, industrial kitchens and restaurants and so on, need sewage oil trapper to remove fat and oil. Floating method is used to remove fat and oil from water due to differences in oil and water density.
Different types of fats are widely used throughout the world in cooking, especially in industrial kitchens. In addition, in these kitchens, things like washing dishes, cleaning the kitchen, laundering all kinds of food, etc., can produce a lot of wastewater and fatty waste. (That's why this device is also called a kitchen oil trapper or a restaurant grease trapper.)
Gravity Floating is one of the most efficient and cost effective methods used today in most wastewater grease removing systems. The processes of flotation and removal of fat and oil are divided into two main parts:
Gravity Separators
Gravity separators are usually used to remove grease, oil and fat that are insoluble and non-emulsion in the effluent. The separation process in the gravity separators is based on the Sketoks law and by the difference in the density of the oil and fat droplets with water. In this process, oil and fat droplets rise and float on the surface of the water due to lower density. The gravity separators are mainly divided into two categories: API and CPI.
Dissolved air flotation
If the fat and oil are emulsified in the effluent or their specific gravity is not sufficiently buoyant, the soluble air is used to float. Small air bubbles attach to oil droplets and help float them. In the process, tiny bubbles of air are needed.
Advantages of Industrial Fat trapper Package, Restaurant Fat trapper
Easy portability and installation on site.
Ability to build and assemble at the project site.
Ability to build in variable dimensions and requirements.
Possibility to move the place of residence.
Full odorless insulation.
High strength of the system walls and thus possibility of burial the package.
Very high resistance to corrosion and chemicals.
Having UV coating.
Very long service life.
No need for insulation and repair.
High performance separation of oil and fat from wastewater (using media and precise measurement of sections).
Has Air Vent for eliminating the smell of grease.
Interchangeable litter bin.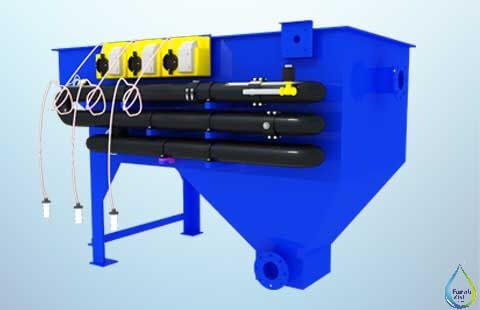 Working Method of Industrial Fat trapper Machine
In general, the degreasing system of wastewater uses the physical property of less oil density than water. Oil requires two factors: "cooling" and "standing up" to separate from water. Degreasing machines are manufactured in such a way that the fat output is located above the tank of the machine. So as soon as the fat level reaches the outlet, it begins to move in the specially constructed duct and moves to the oil reservoir.
So it can be said that wastewater degreaser is a gravity separator that separates and collects types of oils and fats before they enter the sewage disposal system. It is true that the amount of fats in ordinary wastewater is not significant, but the ones mentioned above, such as kitchens and restaurants, can be of sufficient amount to exacerbate the wastewater and cause the wastewater to spread. And therefore damage to the environment.
Calculate Oil trapper capacity
It is very clear that the first factor to calculate the oil trapper capacity is to calculate the amount of wastewater entering it. In different locations and different applications, this amount of wastewater production will vary. So, after calculating the amount of water consumed by the meter, it can be reached.
Another important point to consider when designing and calculating degreasing machin is the length of time the sewer is in the machine.
Farab Zist Faraz Co. designs and delivers polyethylene grease trapper with capacities from 2 to 100 cubic meters. Their geometric shape can be horizontal or vertical cylindrical, cubic / boxy.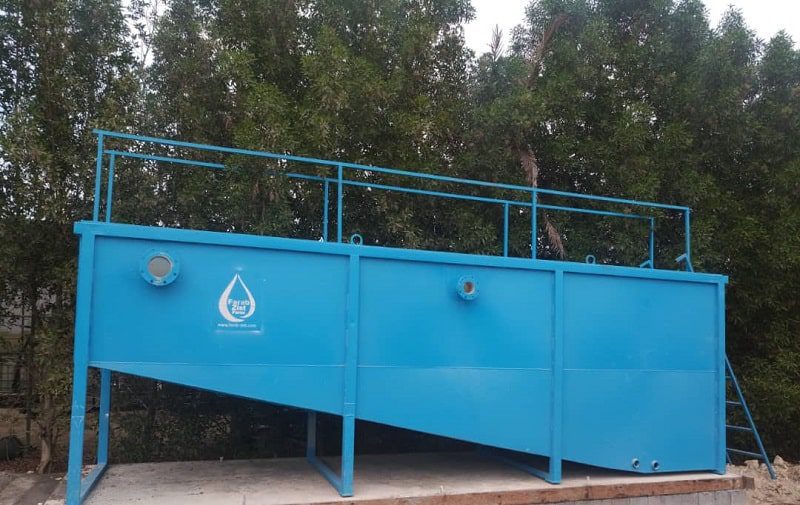 Benefits of Oil trapper for Industrial Wastewater Produced by Farab Zist Faraz Co.:
12 months warranty and 10 years after-sales service.
Use 250 to 400 microns anti-corrosion coating to extend the life of metal tanks.
Ease and speed of installation.
Small dimensions.
Optimization for all types of spaces according to buyer's request.
Removable even after installation.
Minimum energy consumption.
High efficiency in removal of fat and insoluble enrichment and emulsion.
Using top quality equipment.
Full automation and no need for expert operator and ease of operation.
Very low depreciation due to the use of high quality equipment.
You can contact our experts to find out more about the price, the design of a oil trapper, and the calculation of the capacity and details of its construction and installation.