The sanitary wastewater treatment package is in fact a complete treatment plant with all process units in small sizes. Units in a complete refinery include aeration tank, drainage reservoir, chlorine contact tank, sludge reservoir, etc. These units also exist in a refinery. Packages can be used to refine industrial wastewater or sanitary sewage.
Sewage sanitary waste from residential houses, office and commercial complexes, hospitals, etc. The sanitary wastewater consists of two main parts: wastewater from washing and cleaning, so-called gray water, and sewage derived from a toilet, called sewage. Usually these two parts are mixed together and refined. Currently, sanitary wastewater has a huge environmental contribution to the environment due to the presence of organic solvents, as well as various types of pathogens and contagious diseases.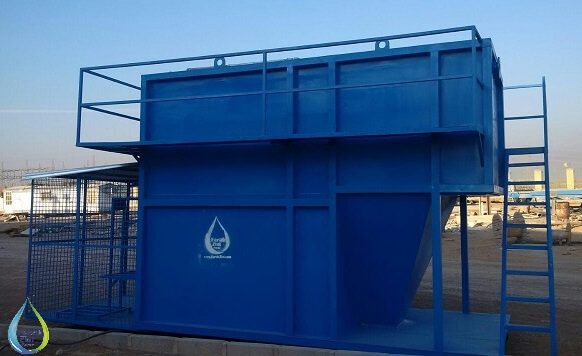 Today, the use of these packages has increased dramatically due to the huge benefits. One of the benefits of these packages is the small size and the low space occupancy. On the other hand, their price is very affordable. Another advantage is the transfer of the package to another location after installation. This feature is very important for engineering and labor camps in executive projects and can be transferred to the new project after the completion of the package project.
The sanitary wastewater treatment package of Farab Zist Faraz is manufactured in various capacities, made of metal and polyethylene. The design of these packages is such that it can easily meet the standards of the Environmental Protection Agency. In terms of volume, the purification capacity is also increased from 1.5 cubic meters day to day.
A sanitary wastewater treatment package and its necessity to use
It is clear to all of us that with the increasing population in the world and also our country, the need to manage water resources is more than necessary before. In order to offset the shortage of water resources from previous years, in most of the first world's countries, management organizations and their governments are more concerned about the need to use sewage treatment systems and to recycle and use more efficient wastewater and waste products in industries as well as domestic consumption have found. In Iran, in recent years, there has been some action to establish sewage treatment networks in major cities.
Also, various industries have also recognized the importance of re-utilizing their wastewater and wastewater and its optimal use. FARAB ZIST FARAZ CO., based on the ability of its experts in recent years to produce various types of sanitary and industrial wastewater treatment plants, sewage treatment systems for hotels and residential complexes, hospital waste treatment and …, has carried out and implemented several projects in the different cities.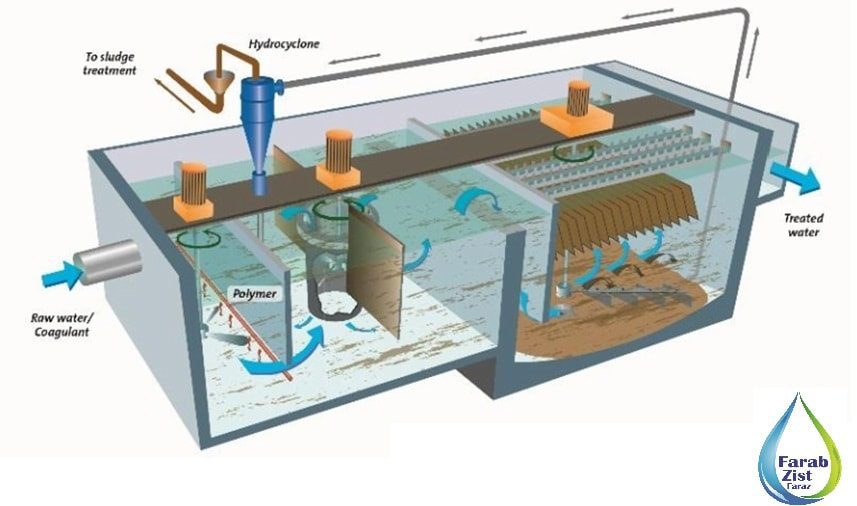 Creating reliable and sustainable packages for the development of residential areas that are not able to connect to the main sewage network is vital. Types of sanitary sewage treatment systems and packages for residential areas in new housing developments should also be controlled and sustainable in the long run, both in terms of operation and maintenance, as well as to reduce environmental impacts.
FARAB ZIST FARAZ CO. has been active in consulting, designing and manufacturing various sanitary, industrial and municipal wastewater treatment plants for many years, as well as manufacturing and selling various water and wastewater treatment plants. You can contact our experts for more information on designing and manufacturing of various systems and the price of a sanitary wastewater treatment package.
Application of Sanitary Wastewater Treatment Package
Today, the application of sewage treatment packages is indisputable in all industries, commercial and residential areas. In general, the use of a sanitary wastewater treatment package in places that are not connected to the sewage treatment network, or in the near or near future, will require the transfer of their sewage treatment system, such as industrial workshops, construction workshops, settlements and places residential outside the city and … is very convenient and affordable. These sewage treatment systems can be used in all of the following situations for ease of installation and operation and high displacement:
1- Towns and residential complexes and types of administrative complexes
2. Hospitals and clinics, health centers
3. Industries, factories and factories active in various fields
4. Types of recreational, educational and military centers
5. Passenger terminals, ports and airports
6. Hotels, hotels and tourist resorts, interurban resorts
7. Facilities and workshops adjacent to dams, rivers and wells
Benefits of Sanitary Wastewater Treatment Packages
• Quickly build, install and operate
• Small dimensions
• Optimization for all types of spaces in accordance with the request for purchase of a medical device and sanitary purification package
• Ability to move even after installation
• High efficiency in treating all types of sewage
• Ability to treat various industrial and sanitary wastewater in accordance with the standards of the Environmental Protection Agency
• No production and release of unpleasant odor in the environment
• Minimum energy consumption
• Excessive sludge production is very low
• Complete automation and no need for expert operator and ease of navigation
• Very low depreciation due to the use of high-quality equipment
• Ability to increase capacity up to 50% after construction
• 12-month warranty and 10-year after-sales service and technical lifecycle support of the headquarters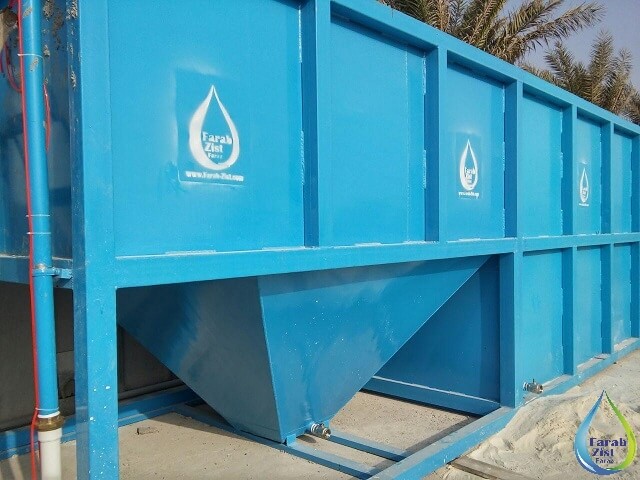 Pre-engineered modular parts, such as exhaust air blowers, flow drainage tanks, aeration tanks, sludge storage tanks, refrigeration units and disinfection units, allow assembled packages specifically based on customer demand and application requirements. To be They can also be configured for different values ​​of flow rates and BOD load rates for drain rates.
Types of wastewater treatment processes used in the sanitary wastewater treatment package
The sewage treatment package has many uses today and is being developed in different sizes and capabilities to address all needs. Today, a variety of them are produced, most of them working in different ways, and their most important advantage is odorless, which can be used anywhere and preventing water loss. Among the most commonly used purification processes that are used in sewage treatment systems are the following:
Wide Aeration Process (EAAS)
The process of MBR (suspended growth activated sludge)
USBF process (aerobic and anoxic)
SBR process (Fill & Draw or blank and blank)
MBBR Process (Wide Aeration Using Biological Growth Platform (PACKING MEDIA))
Sewage Electric Purification Package
Obviously, in order to calculate the price and build a sewage treatment package, volumetric requirements and the amount required for use with estimates and measurements by technical experts are needed first. Also, the equipment used for each system will be different according to the process required for sewage treatment for each project.