Description
DAF Grease Trapper is an advanced design to increase the separation and transparency of wastewater containing insoluble pollutants such as oil and grease particles and suspended solids. In this method, the separation is accomplished by inserting small air bubbles into the liquid phase. The air bubbles attach to the oil particles and the buoyancy force of the particle collection and the gas bubbles are so high that the particle ascends to the surface. This allows particles whose density is higher than that of liquid to rise to the surface. DAF separators are the most advanced and most efficient method of removing soluble and insoluble oils from wastewater. When the DAF system is combined with the coagulation and flocculation process, the two systems are capable of eliminating 90% of organic, inorganic, oil and fat contaminants and particulate matter.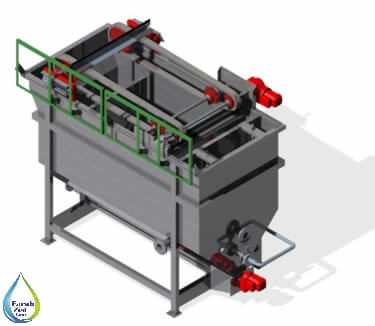 DAF Grease Trapper System is an industrial oil trapper that is used in many industries such as production of dairy products, petrochemicals, petroleum and others. Farab Zist Faraz Co. also offers DAF in its list of products.
Process used in the DAF Oil Trapper:
Dissolved air flotation, commonly referred to as DAF, is a water treatment process that removes suspended substances such as oil or solids. This removal is achieved by dissolving air in pressurized water or wastewater and then releasing air at atmospheric pressure into a floating reservoir pond. The released air forms small bubbles that attach to the suspension and float the suspension to the surface of the water and are then removed by a surface collector.
Floating soluble air is widely used in the treatment of industrial wastewater effluents in oil refineries, petrochemical and chemical plants, and natural gas processing plants, paper mills, water treatment plants and similar equipment. A very similar process known as induced buoyancy gas is also used for wastewater treatment.
In the petroleum industry, gas-soluble floatation units (DGFs) are not used as floatation because of the risk of explosion. Instead, nitrogen gas is used to create bubbles.
Applications of DAF Grease Trapper
Refineries and petrochemical industries
Food and Dairy Industries
Processes where wastewater is associated with large amounts of oil.
Wood and paper mills
Textile Industries
Leather Industry
Metal Industry
Different sections of Wastewater DAF Oil Trapper
1) Inlet section of sewage
2) Transparent purified effluent outlet
3) Floating sludge output
4) Output of sedimented grains
5) Gearbox motor – sludge collector
6) Floating sludge collector system
7) Re-circulate pump
8) Air soluble tube: ADT
9) PBF
10) Coagulant Injection Package and Coagulant Aid
11) Static mixer
14) PH Sensor
15) Power switch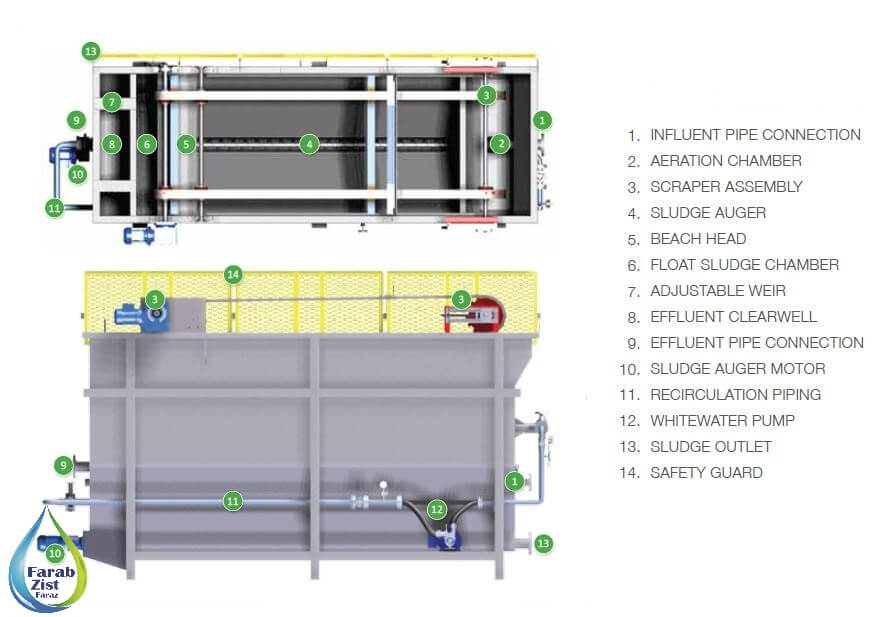 Farab Zist Faraz Engineering Co. is a supplier of EFLOGIX USA wastewater DAF Oil Trapper. The company has also engineered DAF fat trapper technology to reverse-engineer the above packages, allowing them to be manufactured in the country.
Benefits of DAF Grease Trapper Package:
reasonable price
High-tech manufacturing
Minimum space required
Remove odor
Ability to remove fat, oil and suspended substances simultaneously
High efficiency in removal of fat and soluble oils and emulsions
Easy to navigate and maintain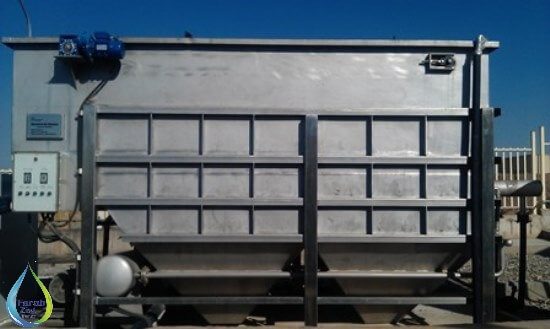 Oil Trapper packages also come in a variety of materials, including concrete, polyethylene, and metal. Farab Zist Faraz Engineering Co. manufactures various types of industrial grease trapper packages including API grease trapper packages and CPI grease trapper packages and soluble air grease trapper packages, also called DAF packages.
You can contact our experts for more information on pricing, design and calculation of DAF packages capacity and details of its construction and installation.